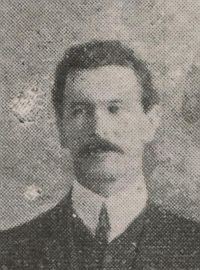 Born: 20 August 1875 (Brisbane, Queensland)
Died: 20 April 1934 (Mackay, Queensland) aged 58 years.
Buried: 21 April 1934 ( Mackay Cemetery, Pres. Sect. 2, Row 2, Plot 15.)
Parents: George CAMERON and Harriet Maud DAY.
Marriage: 14 December 1909 (Brisbane, Queensland) to Jean Campbell BARRIE.
Religion: Presbyterian

---
MR G. M. CAMERON
----------
Mr. George Marshall Cameron, of the well known firm of Camerons Ltd, passed away bout 6.30 a.m. yesterday at the age of 58, after a lingering illness. For the last two years the state of his health had been unsatisfactory and he had sought rest and medial attention in the South. Last year he returned from the South considerably improved in health and visited the foundry from time to time but was unable to assume his responsible duties as manager. Some weeks ago he entered hospital and although he returned to his home about a fortnight ago, his condition did not improve and he was taken to hospital again on Thursday and passed away yesterday. Deceased was born in Brisbane and was only 6 years old when he came to Mackay with his parents. His father had been employed at Smellie & Co., engineers, Brisbane, and came to Mackay with Messrs. Mackay and Green, who also had been working with the same firm. Mr. Cameron, sen. established the present foundry and took his two fellow workmates into partnership under the name of Cameron, Mackay & Green. After the death of the two latter, the establishment became know as Camerons Ltd.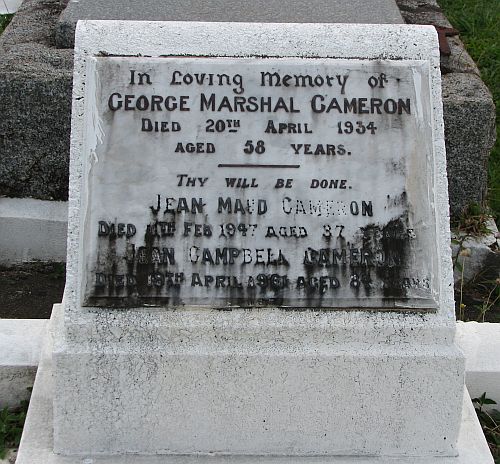 The headstone of George Marshal Cameron, Mackay Cemetery.
(Glen Hall Collection, March 2008)
After his schooling in Mackay, the late Mr. George Cameron was apprenticed at the foundry and after finishing his time he was sent by the firm to Glasgow to gain experience. He spent a considerable time at the factory of John McNeil & Co., sugar machinery manufacturers. On his return to Mackay his knowledge was put to good use at the foundry. His father died in 1917, and deceased, being the eldest son, took charge of the business.
He was married in Mackay to Miss Barry, the daughter of a Presbyterian minister who was stationed here for a number of years. Despite his responsibilities and the many calls on his time, Mr. Cameron took an active interest in municipal affairs. He was an alderman for a number of years, and Mayor of the town for a term. Deceased also was a keen sportsman and followed cricket and football. As a member of the old Sunflower team he did battle with the present Town Clerk (Mr. W. Weir) and other prominent citizens.
In later years, Mr. Cameron became a bowler under the flag of the Mackay Bowling Club, and subsequently joined up with the City Bowling Club. For some years he had not been able to take a playing part, but even as late as the recent pennant competition in Mackay he was a keen spectator. Deceased also had shown his love for an active life by becoming a member of the volunteer forces in the Queensland Mounted Infantry For years he was a Sunday school teacher, and an elder of the Presbyterian Church. He also was a prominent member of the Masonic Lodge.
He is survived by a wife and one daughter, two brothers, Colin and Walter, and three sisters - Mrs. Tulk and the Misses Cameron of Shakespeare street. The funeral will take place at 2.30 this afternoon.
Source:

The Mackay Daily Mercury; Saturday, April 21, 1934; Page ten.
---
Other Sources:
Mackay Cemetery Burial Register, Mackay Branch Genealogical Society of Qld.

Mackay Cemetery Monumental Inscriptions, Mackay Branch Genealogical Society of Qld.

Queensland Births Deaths and Marriages, Registry of Births, Deaths and Marriages, Brisbane; Births 1875-1879, Microfische Sheet No. 001, Page No. 216, Registration No. 75 B / 019611.
Queensland Federation Index 1890-1914.
---
If you can supply any further information or photographs on the above please contact us by EMAIL
Glen Hall
---
---
© Glen Hall 2001-2017.
page created 01 August 2003.
last updated 17 July 2017 .
Site maintained by Glen Hall.