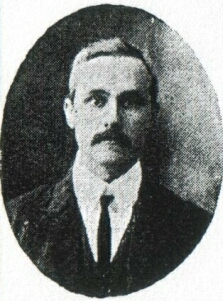 Born: 5 January 1870 (Mackay, Queensland)
Died: 8 March 1946 (Mackay, Queensland) aged 76 years
Buried: 9 March 1946 (Mackay Cemetery, Roman Catholic Section)
Parents: Frank WILLIAMS and Mary GRIFFIN
Marriage: 25 April 1914 (Brisbane, Queensland) to Catherine Anastasia CLOAKE
Religion: Roman Catholic

---
With the death yesterday of Mr. Arthur Francis Williams at the age of 76, Mackay lost another citizen closely associated with the early days of the city.
Born in California (he was actually born in Mackay), Mr Williams came to Mackay with his parents at an early age, and spent practically all his life in the city and district. His father conducted a cooperage business in Gregory Street.
As a young man Mr. Williams entered journalism, founding the "Chronicle" a tri-weekly newspaper which was amalgamated with the "Daily Mercury" in 1900, and for the next 10 years Mr. Williams edited the "Daily Mercury", hi interests then being acquired by the late Mr. W. J. Manning.
On his retirement from the newspaper business Mr. Williams took over the Club Hotel at Mirani which he operated until he joined with Mr. H. A. Webster in the hardware business in 1913, continuing in this until 1920. For a time he was associated with Queensland Preserving Company in Brisbane and later ran the Metropolitan Hotel in Mackay.
Mr. Williams took a keen interest in civic affairs and from 1918 to 1920 represented the then South Ward on the council. He served as Mayor from 1921 to 1924 and then retired from local body work.
The Masonic Lodge was another of Mr. Williams' interests and he rose high in the craft being a past master of the Temple Lodge.
He is survived by his wife, formerly Miss Cloak, two sons, one daughter, Sister Mary Regis, now in Tasmania. A sister, Miss Kate Williams, also survives him, another sister (Mary) Mrs Guinane, and a brother Charles having predeceased him.
The funeral will move from St. Mary's Church, South Mackay at 11 a.m. today.
Source:
The Mackay Daily Mercury; 9 March 1946.
---
The Late Mr. A. F. Williams
----------
Mr. A. G. Williams (Evans Street) writes:-
On reading your obituary notice of Mr. A. F. Williams, my father, there are one or two alterations I would like to make. My father was born not in California but in Mackay in 1870 and was baptised in the same year by the Rev. Father P. M. Bucas. Incidentally, he cherished a lifelong regard for Father Bucas and always spoke of him with genuine affection.
In 1872 his parents left for California, returning in 1884.
On retiring from journalistic pursuits he became the licensee (sic) of the Pioneer Hotel, Mirani, not of the Club Hotel. Finally my father was the last surviving member of his family, his sister Kate having predeceased him by four years. Her funeral announcement was carried in the "Daily Mercury" of January 5, 1942.
Source:
The Mackay Daily Mercury; 11 March 1946.
---
Other Sources:
Mackay Cemetery Burial Register, Mackay Branch Genealogical Society of Qld.

Mackay Cemetery Monumental Inscriptions, Mackay Branch Genealogical Society of Qld.

Queensland Births Deaths and Marriages, Registry of Births, Deaths and Marriages, Brisbane; Births 1870-1874, Microfische Sheet No. 005, Page No. 1197, Registration No. 70 / 001704.
Queensland Pioneers Index, 1829-1889
Queensland Federation Index 1890-1914.
---
If you can supply any further information or photographs on the above please contact us by EMAIL
Glen Hall
---
---
© Glen Hall 2001-2017.
page created 01 August 2003.
last updated 17 July 2017 .
Site maintained by Glen Hall.