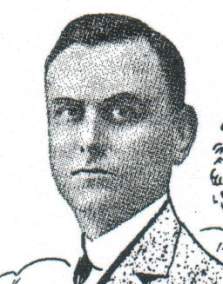 Born: 12 February 1888 (Bundaberg, Queensland)
Died: 27 October 1951 (Melbourne, Victoria) aged 63 years.
Buried: 30 October 1951 (Woden Cemetery, Canberra, A.C.T.,.Presbyterian Section,
Grave C156)
Parents: Frederick Lewis NOTT and Janet/Jean BLAIR.
Marriage: 1913 to Doris ASHBURY.
Religion: Presbyterian

---
Dr Lewis Windermere Nott was born in the Queensland city of Bundaberg on 12 February 1888. He was the son of Frederick Lewis Nott, a plantation owner and Janet/Jean Blair. He received his early schooling at the Maryborough Grammar School. He continued his education at the University of Sydney, the Ballarat School of Mines and the Royal College of Surgeons in Edinburgh, Scotland.
During the Great War he served with Scottish Regiments from 1914 to 1917. He was twice Mentioned in Dispatches. He served at the Norfolk War hospital and was the resident surgeon at the Edinburgh Royal Infirmary and the Pilkington Orthopaedic Hospital.
Upon his return to Australia he was the medical officer in charge of the malaria survey of North Queensland for the International Health Board. He then commenced practice in Sydney then returned to Queensland with the Hookworm Committee. He came to Mackay as the medial superintendent of the Mackay District Hospital.
His first foray in politics was in the 1923 State election where he was unsuccessful against sitting member William Forgan Smith. Whilst in Mackay he successfully became elected as Mayor for a three year term from 1924 to 1927. He stood for Federal Parliament for the Nationalist Party and was successful in defeating A.L.P candidate and Queensland Premier Ted Theodore for the seat of Herbert in 1925. He held the seat till he was defeated in 1928. Whilst he was in Parliament he was a member of the Joint Select Committee on the Moving Picture Industry in Australia in 1927 and on the Royal Committee of the same from 1927-1928.
Dr. Nott then moved south where he contested the election in 1929 for the seat of North Sydney but was unsuccessful. Upon moving to Canberra, he worked at the Canberra Community Hospital in 1929 to 1934 and was the Superintendent there for many years. He was then a member of the Canberra Advisory Council from 1934 to 1939. He tried again to win a seat in Parliament by contesting the seat of Calare in 1934 but once again failed. He tried for a third unsuccessful time to win the seat of east Sydney in the 1940 election. He returned to the Canberra Community Hospital for another 10 years from 1939 to 1949.
He finally became successful after 24 years in entering Parliament and became the first federal member for the A.C.T. in the 1949 election and held the seat till he was defeated in 1951.
Dr Notts other interests included being president of the Citizen Rights Committee, a member of the A.C.T. branch of the Returned Services League, Canberra Kennel and Trial Dogs Association, founder of the Canberra Repertory Society and the Horticultural Society, and was also a member of Legacy and the St. John's Ambulance.
Dr. Nott was married in 1913 to the former Doris Ashbury and had a family of 3 sons, Derick, John and David and 2 daughters, Joy and Lyndal. His brother Frederick Lancelott Nott was also a politician holding a seat in the Queensland Legislative Assembly.
Information Sources:
Gugler, Ann . (1 October 2004) ,(20 September 2004). Emails
Nott, David. (1 March 2005). Email
Ryden, Joan. (1975) A Biographical Register of the Commonwealth Parliament 1901-1975, Canberra, pages 167, 168.

Kennedy, Kett (2002) Mackay Revisited, Pages 201-205.
Garland, D.J. ,(1929) Men of Queensland, Read Press Ltd., Brisbane.
Queensland Births Deaths and Marriages, Registry of Births, Deaths and Marriages, Brisbane; Births 1885-1889, Microfische Sheet No. 008, Page No. 2027, Registration No. 86 / 000417.
Queensland Pioneers Index, 1829-1889
Queensland Federation Index 1890-1914.
---
Canberra funeral for Dr. Nott.
CANBERRA, Sunday.--
The body of Dr. L. W. Nott will be brought from Melbourne to-morrow by train and the funeral service will be held at 2.30 p.m. in St. Andrew's Cathedral, Canberra.
Dr. Nott was on his way to take up an appointment as superintendent of the Yallourn Diagnostic Centre yesterday when he collapsed on the plane on the way from Canberra to Essendon.
The gravemarker for the final resting place of Dr. Lewis Nott in Woden Cemetery in Canberra.
(Ann Gugler Collection)
He died shortly after admission to the Royal Melbourne Hospital. Dr. Nott was 63 years of age.
He was the first member of Parliament for the A.C.T. He was a member of the Advisory Council for 15 years and chairman of the Canberra Hospital Board for a similar period.
Mr. J. Fraser who defeated Dr. Nott for the A.C.T. seat at the last elections, said to-night Dr. Nott would long be remembered by the people of Canberra for his unstinting services during the depression years and for his kindness to all who knew him.
Mr. Allan Fraser, member for Eden Monaro, and chairman of Canberra Hospital Board, also paying a tribute, said, "Dr. Nott will be remembered for many thing, including his sensational defeat of Mr. G. S. Theodore in Herbert in 1925."
Dr. Nott was on the staff of Mackay District hospital for a number of years. He later took up a private practice in the city.
Source:
The Daily Mercury; Monday, October 29, 1951; Page 1.
---
For further reading this book was published by Dr. Nott's son David based on letters written by his father to his mother, whilst in France in the Great War.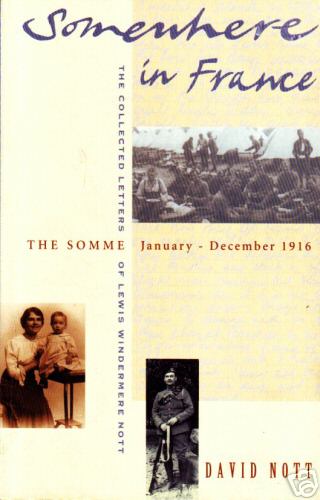 Author:
Nott, David (David Bruce)
Title:
Somewhere in France : the collected letters of Lewis Windermere Nott, January - December 1916 / edited by David Nott.
Publisher/Date:
Pymble, N.S.W. : HarperCollins, 1996.
Description:
xvii, 334 p. : ill., ports ; 21 cm.
Subject(s):
Nott, Lewis Windermere Correspondence.
Somme, 1st Battle of the, France, 1916 Personal narratives, Australian.
World War, 1914-1918 Personal narratives.
Other author(s):
Nott, Lewis Windermere.
ISBN/ISSN:
0732256674 (pbk) :
---
If you can supply any further information or photographs on the above please contact us by EMAIL
Mackay Historical Society
---
---
© Mackay Historical Society and Museum Incorporated 2001-2008.
page created 01 August 2003.
last updated 26 March 2008 .
Site maintained by Glen Hall.