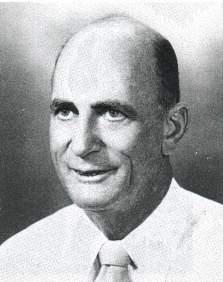 Born: 10 December 1913 at Marvel Loch, Western Australia.
Died: 10 February 2006 (Mackay, Queensland) aged 92 years.
Buried:
Parents: Albert Victor ABBOTT and Diana LAZARUS
Marriage: 28 June 1941 (Holy Rosary Catholic Church, Marian, Queensland)
to Gwendoline Joyce MACLEAN
Religion:

---
Sir Albert Francis Abbott was the longest serving Mayor of Mackay from 1970 to 1988. He oversaw a period where Mackay City expanded to become one of the largest sugar and mining supply centres in Australia.
He was born in Western Australia where he attended school at Wellington Mills, a small timber community in the south west of the state. His father brought the family over to Queensland in 1924 when Albert was 11 years old and settled at Mount Martin just outside of Mirani.
His first job was with his father driving a truck carting cane from farms over the district to the tram lines to be taken to the sugar mill. In the slack season he cut and carted timber, fence posts, house and yard blocks and mill wood for fuel for the Marian, North Eton and Cattle Creek Sugar Mills.
He married Gwen MacLean in 1941 and together they had six children.
He served in the R.A.A.F. during the Second World War until 1946.
Upon his return after the cessation of the war, he bought another truck and used it on the road works to help the resealing of the Eungella Range Road. He as given the job of road construction foreman by the then engineer Charlie Barton later to become Sir Charles Barton. He worked on a number of different road construction jobs around the Mirani Shire.
Albert entered a ballot for a War-Service cane block at Te Kowai and finally gave up road building in 1951 to become a cane farmer.
He was heavily involved in the welfare of ex-servicemen and was a President of the local Mackay R.S.L. sub-branch from 1960 to 1965. He then became Mackay district President from 1965 to 1974. He went further and became the Queensland State President of the R.S.L. from 1974 until 1990.
He entered local politics in 1970 and became the 47th Mayor of Mackay. It was a position he held until he was defeated by Peter Jardine in 1988.
During this period he became President of Local Government Association of Australia between 1986-1987. He held the State Presidency of this organisation from 1983 to 1988. He was appointed as a Commissioner for the Queensland Local Government Grants Commission from 1977 to 1984. He also served on the Picture Theatre and Films Commission from 1976 to 1990 as well as Foundation Governor of the Utah Foundation Trust from 1975 to 1989.
He was also very active in various community groups in Mackay. He was President of the Mackay Branch of the A.N.A. from 1964 to 1974. Executive Officer and President of the Mackay State High School P&C from 1960 to 1971 and President of Mackay Legacy in 1960.
He was created a Knight in the honours list in 1981. He was previously awarded a CBE for his services to the community in 1974.
---
Information Sources:
Notable Queenslanders 1975, Consol Publishing Co, (1975), Brisbane.
Platypus Press, No. 29, November 1990, p.9.
Who's Who in Australia 2000, Information Australia Group Pty Ltd, (1999), Melbourne, p. 111.
Email: Elizabeth Swan 25 March 2009.
---
If you can supply any further information or photographs on the above please contact us by EMAIL
Glen Hall
---
---
© Glen Hall 2001-2017.
page created 08 July 2004.
last updated 17 July 2017 .
Site maintained by Glen Hall.