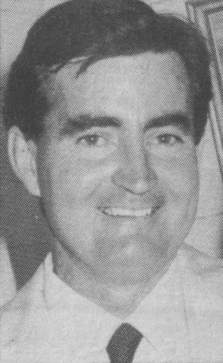 Born:
Parents:
Marriage:
Religion:
---
Peter Jardine was a surveyor before entering local politics and defeating the then longest serving Mayor in Mackay's history, Sir Albert Abbott in the 1988 election. He was Chairman of the Council's works committee while an alderman for the previous three years before becoming Mayor.
Achievements gained during his mayoralty included the gaining of local ownership of the Mackay airport by the Mackay Port Authority, negotiation of a compensation agreement with Queensland Rail for the Lagoons rail relocation project and negotiation of a new water agreement with the State Government at a far better rate than before he was elected.
Pater Jardine was defeated by Greg Williamson in the 1991 election.
---
Information Sources:
The Daily Mercury, Thursday, December 1, 1994. "Mackay City Council 125 years" Souvenir Edition
---
If you can supply any further information or photographs on the above please contact us by EMAIL
Glen Hall
---
---
© Glen Hall 2001-2017.
page created 08 July 2004.
last updated 17 July 2017 .
Site maintained by Glen Hall.