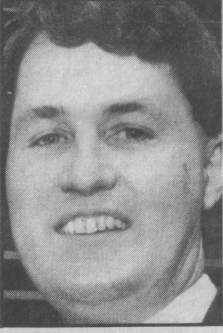 Born:
Parents:
Marriage:
Religion:
---
Greg Williamson was elected to the Mayoralty in the 1991 election. He was for many years a well known and liked Radio Announcer for the local Radio Station 4MK. He was working as a Travel Agent prior to his election as Mayor.
Achievements during his three year term included the extensive redevelopment of the City Heart, preparation of a counter-disaster plan for Mackay, establishment of a kerbside recycling scheme, doubling Mackay's water treatment plant capacity, the rebuilding of 20 streets and intersections and a $3 million upgrading of the Bridge Road and South Mackay drainage system.
Following his mayoralty , Greg is better known as first Mackay manager of employment company "Labour Ready" and later becoming the firm's Queensland State Manager.
---
Information Sources:
The Daily Mercury, Thursday, December 1, 1994. "Mackay City Council 125 years" Souvenir Edition
---
If you can supply any further information or photographs on the above please contact us by EMAIL
Mackay Historical Society
---
---
© Mackay Historical Society and Museum Incorporated 2001-2008.
page created 08 July 2004.
last updated 29 March 2008 .
Site maintained by Glen Hall.