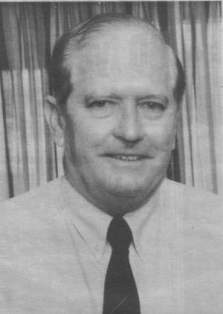 Born: 1934

Parents: James Vincent Kenneth (Ken) WHITE & Jessie MacKENZIE
Marriage:
Religion:

---
Councillor Gordon White became the first Mayor of an amalgamated Mackay City Council which absorbed the old Pioneer Shire Council area in 1994. He gained a rare honour for his family when he became the final Pioneer Shire chairman after the retirement of John Young in 1982.
His family had been cane farmers in the Coningsby area for many years and he attended Coningsby State School for his early education.
Though there were several instances of fathers and sons serving as councillors during the Pioneer Shire's life of 114 years, Ken White from 1957 to 1964 and his son Gordon from 1982 until 1994, are the only father and son to have served as chairman.
Two experienced Pioneer Shire councillors, Henry Maplethorpe and Jim Hicks, were the men who persuaded a young Gordon White to enter public life, pinning their faith on the philosophy of "like father, like son."
Henry Maplethorpe, a councillor from 1943 to 1949 and from 1966 to 1979, and Jim Hicks from 1957 to 1967, had lengthy associations with Ken White, both personally and in public affairs, particularly on the council and in the sugar industry.
Henry Maplethorpe had also spent many years on rugby league fields with Ken White.
At the time of his unexpected death in December 1964, aged 60, Ken White, in addition to being the Pioneer Shire chairman was chairman of directors of Farleigh Mill, a member of the Mackay Regional Electricity Board, the Mackay Harbour Board and the Pioneer River Improvement Trust.
When in 1966 a vacancy occurred on council as a result of the death of Cr. Bill Graves, Crs. Maplethorpe and Hicks sensed that the time had come for another White to join the council.
Gordon White, who was then running the family farm, had no practical experience in public life prior to accepting the nomination but he had gained a good insight into the demands made on those who did take part in public affairs through observing the career of his father.
He became chairman of the Pioneer Shire Council in 1982 following the retirement of John Young ( and has also held several other important positions.
He was chairman of the Mackay Electricity Board from 1982 until 1994. Progress made by the M.E.B. under his leadership would have been especially gratifying to him as his father was a foundation member of the Mackay Regional Electricity Board.
In local government Cr. White was a member of the Local Government Grants Commission and the Local Government Association executive and served on several of its committees.
Councillor Gordon White only served one term as Mayor of the Mackay City Council and was defeated by Julie Boyd at the 1997 elections. He is honoured in the naming of the Gordon White Library at Mount Pleasant.
Information Source:
Coningsby State School 1884-1984, Coningsby State School Centenary Celebrations Committee, (1984)
The Daily Mercury, Thursday, March 3, 1994; Supplement "Pioneer Shire 1880-1994, We Salute You", p. 11.
The Daily Mercury, Thursday, December 1, 1994; Supplement "Mackay City Council 125 years".
---
If you can supply any further information or photographs on the above please contact us by EMAIL
Glen Hall
---
---
© Glen Hall 2001-2017.
page created 08 July 2004.
last updated 17 July 2017 .
Site maintained by Glen Hall.