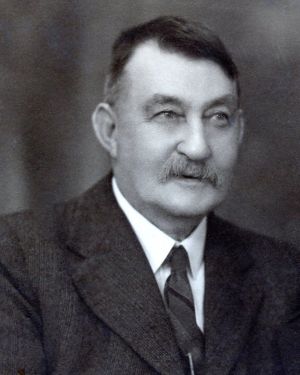 Born: About 1867 (Birkenhead, England)
Died: 4 June 1942 (Mackay, Queensland, Australia) aged 75 years.
Buried: 5 June 1942 (Mackay Cemetery, Church of England Section)
Parents: Henry Lawrence ROSS and Sarah Ann ELVIS
Marriage: 7 February 1898, Elizabeth HERON
Religion: Church of England

---
OBITUARY
LATE MR. D. L. ROSS
The death occurred yesterday morning of Mr. Douglas Lawrence Ross, well-known townsman, who for many years was prominent in public activity and progressive movements in this district.
Deceased was born in Birkenhead, England and was educated at Liverpool College. His father was a prominent merchant in Liverpool and educated deceased with the object of entering on a business career. Deceased had an inherent desire to go to sea and made an attempt to join a sailing ship. His father, realising that deceased's ambition was to roam the seas, agreed to have him apprenticed on a sailing vessel. For a number of years he rambled the world and called at Sydney on several occasions during his voyages, which generally were to America. Subsequently he was impressed with the possibilities of Australia, and remained here.
He worked on sheep properties and after a visit to West Australia took up a selection. The sheep run was not a success and he returned to the East coast. He worked on several properties in NS Wales and also engaged in droving. One of the droving engagements brought him north through Queensland and up to the Gulf country. He had passed through Clermont on the way north and learned of the prospects offering in Mackay.
On completing the trip he came to Mackay and engaged in farming at West Plane Creek. While there he took a keen interest in the development of the sugar industry and was actively associated with the establishment of Plane Creek mill. Leaving Plane Creek he was a cane inspector at Racecourse and then entered business as a commission agent in Mackay. While in that business he was the valuer for much of the sugar land then being taken up. Disposing of this business he went to Featherstone Station, in the Nebo district, which he conducted for a number of years. Later he returned to Mackay and engaged in farming at Homebush at what is still known as the "Home Farm" and is carried on by his son, Mr. Douglas (Jim) Ross. After many years at Homebush he returned to Mackay and lived in retirement until the time of his death.
For a lengthy term he was a member of the Pioneer Shire Council and occupied the position of Chairman. He also took an active interest in canegrowers' organisations and the Show Association. For several months recently he had not enjoyed robust health.
He is survived by his widow, four sons, and three daughters. The sons are: Henry (J. A. Michelmore & Co. Pty. Ltd.), Douglas ("Home Farm" Homebush), Stanley (Homebush), and George of the AIF (who recently returned from overseas and is now in a southern station). The daughters are: Mrs. R. Manley (Sydney), Mrs. E. Bilham (Mackay), and Mrs. C. W. (Dr.) Taylor (Brisbane, formerly of Mackay and Ayr, Dr. Taylor having returned a few weeks ago from active service overseas).
The funeral will take place from the Holy Trinity Church at 3 p.m. today.
Source:
The Daily Mercury, June 5, 1942.
---
Other Sources:
Kerr, John. (1980). Pioneer Pageant. Mackay, QLD: Pioneer Shire Council.
Mackay Cemetery Burial Register, Mackay Family History Society.
Registrar General, Registry of Births, Deaths and Marriages, Department of Justice and Attorney General, Queensland Government. Queensland Births Deaths and Marriages, Deaths 1940-1944, Microfische Sheet No. 008, Page No. 2010, Registration No. 1942/003448.
Queensland Pioneers Index, 1829-1889
Queensland Federation Index 1890-1914.
Ross, David, Email, 30 January 2018
---
If you can supply any further information or photographs on the above please contact us by EMAIL.
Glen Hall
---
---
© Glen Hall 2001-2018.
page created 24 May 2004.
last updated 17 June 2018 .
Site maintained by Glen Hall